Keyboard Shortcuts
You can always find a list of shortcuts in the toolbar.
Here are some of the key ones:
Action
Shortcut
Open the designer

Use the "." key

Turn on block edit

Use the "x" key (Main block will be in focus, with pencil icon darkened.)

 

Edit the block in focus

Use the "e" key

 

Focus on the next block

Use the "f" key

 

Focus on the previous block
Use the "a" key
To collapse down the Confluence menu
Click the "«"
To hide the Confluence menu fully
Type "z"
Watch and Learn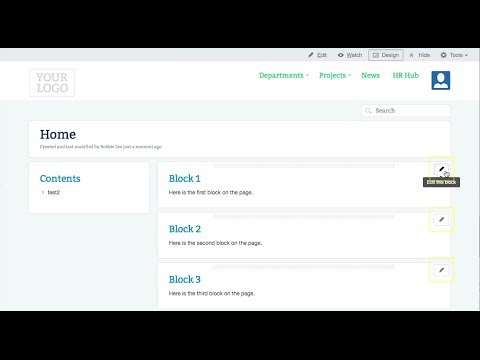 These are the basic menus and controls that allow you to create and edit pages in your site. With regular use, they'll become second nature.
The Simple Toolbar
An abbreviated set of options, the Simple Toolbar provides access to the primary tools for working on a page, and is accessed from the Hamburger Icon (that replaced the chevron icon after version 2.0 of Theme Press). You can also open up or hide the Simple Toolbar menu by using the "Z" shortcut. 
Editing
You open Block Editing by choosing it from the hamburger menu or using the "x" key.
Collapse the Confluence Menu with the left-aiming chevrons or hide it completely with the "z" shortcut to see how your page looks to users who don't have access to the menu.
Once Block Edit is selected, you can edit any content block by clicking on the pencil icon in the upper right corner of the block. The main block will be in focus. Start editing that block without clicking the pencil by using the "e" key. You're off and running.
The Theme Press Designer
A special side panel unique to Theme Press, the Theme Press Designer. is opened by choosing it from the Tools or ellipse menu. You'll use the designer for simple actions, such as adding new blocks, rows or columns that make up the page. You'll also use the designer for more complex activities, such as changing layouts (on a page or space level) as well as editing themes.

Use the "." shortcut to open the designer.,
Depending on your permissions, you may see three tabs in the Designer:
Page (generic or architect)
Architect
Theme
Header, Menu, and Footer
The Header, Menu and Footer are controlled by specific pages within the theme for the space. These will be configured for each space (or the entire site) by the Site Architect before you begin building out your content. If you wish to change the any of these elements within a space, you will do so within Theme Press Designer.